By STELLA M. HOPKINS Published on 2004-11-14, Page 1I, Charlotte Observer, The (NC)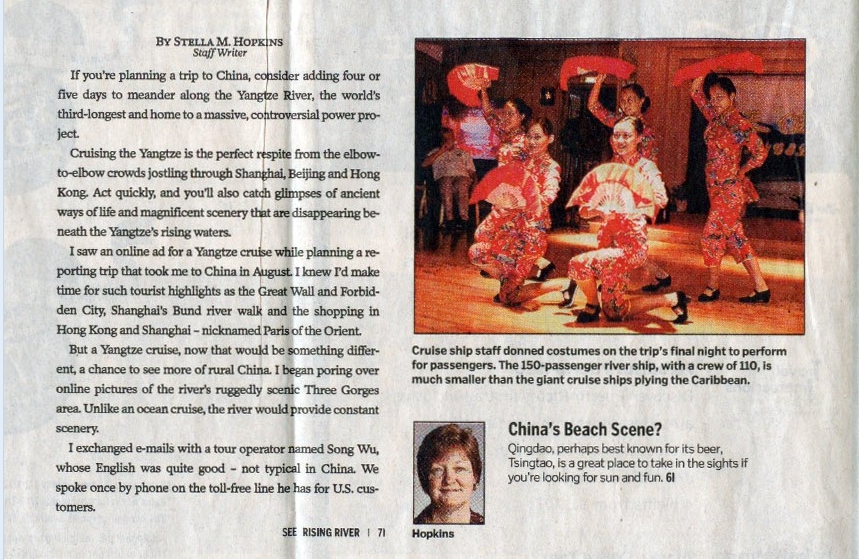 If you're planning a trip to China, consider adding four or five days to meander along the Yangtze River, the world's third-longest and home to a massive, controversial power project …. Cruising the Yangtze is the perfect respite from the elbow-to-elbow crowds jostling through Shanghai, Beijing and Hong Kong….
I saw an online ad for a Yangtze cruise while planning a reporting trip that took me to China in August. I knew I'd make time for such tourist highlights as the Great Wall and Forbidden City, Shanghai's Bund river walk and the shopping in Hong Kong and Shanghai – nicknamed Paris of the Orient
But a Yangtze cruise, now that would be something different, a chance to see more of rural China. I began poring over online pictures of the river's ruggedly scenic Three Gorges area. Unlike an ocean cruise, the river would provide constant scenery.
I exchanged e-mails with a tour operator named Song Wu, whose English was quite good – not typical in China. We spoke once by phone on the toll-free line he has for U.S. customers.
The $395 cruise package included meals, English-speaking (more or less) guides and shore excursions. Wu's full packages include air fare to and from ports and airport transfers. He offers options designed to fit into broader travel plans. I chose the slower five-day, four-night upstream route, flying from Shanghai to Yichang and then flying to Beijing from Chongqing.
The flights and transfers added $378, and I had to pay a 75 percent surcharge on the cruise for a private room. The total bill was $1,069, which i had to wire to a stranger half a world away.
Ordinarily, I would have worried, but I was too busy planning the working part of my trip and hassling with Chinese officials to get a journalist visa. Wu confirmed receipt of my cash within a day and arranged a message to deliver plane tickets my hotel in Shanghai. The messenger arrived at the agreed upon 10 p.m. So far, so good.
By that time, I'd been working in China for nearly three weeks. Things didn't always go as expected, but generally worked out. Arriving in Yichang, a guide met me in the little airport. He took me to a museum displaying artifacts unearthed from Three Gorges area.