Come aboard the Sanctuary Yangzi Explorer cruise ship for a voyage of discovery and tranquility along China's magnificent Yangzi River (also known as Yangtze River). Passing through the Three Gorges region, this journey encompasses thousands of years of history as well as timeless natural beauty, all in the comfort of the finest ship on the Yangtze River today.
View the Yangzi Explorer Cruise Brochure
Yangzi Explorer

Ship Facts
Cruise Name: Sanctuary Yangzi Explorer
Rating: +
Operated by: Sanctuary Retreats
Built: 2008
Speed: 26km/h
Air-Conditioning: Central Controlled
Tonnage: 6733 T
Refurbish: 2016
Length: 91.5m
Beam: 16.4m
Draft: 2.8m
Crew: 121
Capacity: 124
Deck: 5
Yangzi Explorer

design includes:
1 Celestial & 1 Imperial Suite
1 Jade & 1 Mandarin Suite
20 Suites
38 Deluxe cabins
International restaurant – Dynasty Palace
Duplex theatre with bar – Tang Theater
Viewing Lounge with Bar – Explorer Bar
Function rooms – Peony & Lotus
Spa and Sauna – Dragonfly SPA
Souvenir and Gift Shops
Cruise Library
Gym
Beauty Salon
Clinic
Business Centre with internet access
Elevator
Laundry service
24-hour room service
Non-smoking policy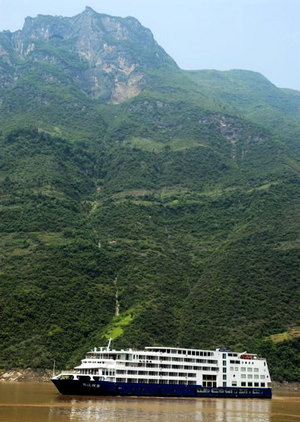 Yangzi Explorer

Ship Staterooms
Deluxe Cabin
31 sq.m

(38 Cabins)

Suite
39 sq.m

(20 Suites)

Jade & Mandarin Suite
87 sq.m

(2 Suites)

Celestial & Imperial Suite
110 sq.m

(2 Suites)
Yangzi Explorer

Ship Deckplan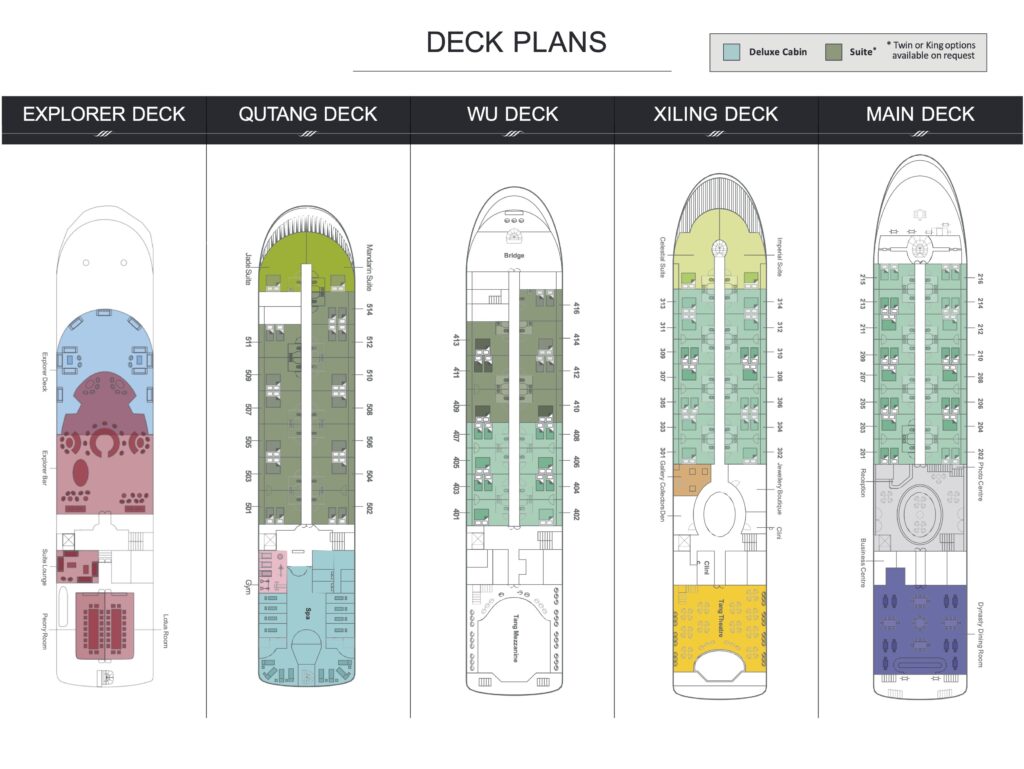 Sanctuary Yangzi Explorer is an internationally managed five-star cruise ship sailing the Yangzi River (also known as Yangtze River) by the Sanctuary Retreats. With a capacity of only 124 passengers, the cruise offers attentive service in relaxed and intimate surroundings.
Embark on shore excursions in the company of experienced and knowledgeable experts in the river's history and ecology, then return for an elegant dinner prepared by an executive chef, followed by a nightcap in the lounge. With on-board amenities ranging from a spa and fitness center to a theatre and espresso bar, it sets a new standard for luxury and comfort on one of the most spectacular waterways on earth.
Sanctuary Ms. Yangzi Explorer cruises sail downstream from Chongqing to Yichang (3 nights 4 days) and upstream from Yichang to Chongqing (4 nights 5 days), with shore excursions at Fuling (you could choose to visit Fuling 816 Underground Project or White Crane Ridge Underwater Museum), Shennong Stream, and the Three Gorges Dam Project, the largest hydroelectric power station in the world.
Unparalleled accommodation
Because Yangzi Explorer's complement is limited to 124 passengers, her staterooms set a new standard in spaciousness and elegance, from a roomy Deluxe Cabin to the palatial, 828 square-foot Imperial Suite. All cabins and suites feature private balconies, affording a unique view of the gently scrolling landscape.
Comfort and convenience
Yangzi Explorer includes all the amenities you would expect at a first-class hotel, including a fitness center, Internet access throughout the ship, laundry service, and a multi-language library. To ensure your comfort onboard, smoking is not permitted in internal areas and mobile phone use is confined to private areas.
The finest expertise
Adding context to your journey, Yangzi Explorer's onboard Sinologist coordinates a range of educational programs and shore excursions, unraveling the myriad of historical, cultural, and environmental factors that have made the Yangzi so integral to 3,000 years of Chinese history.
Responsible tourism
Yangzi Explorer is one of the first Yangtze River cruise ships to embrace the full spectrum of ecologically friendly tourism, including responsible sewage disposal, recycling facilities, and other measures that ensure the ship is energy efficient and environmentally friendly.
Yangzi Explorer

Shore Excursions

3 Nights Downstream
Chongqing to Yichang
Included:
Fuling 816 Underground Project
or White Crane Ridge Underwater Museum
Optional (for purchase onboard):
4 Nights Upstream
Yichang to Chongqing
Included:
Three Gorges Dam
Shennong Stream
Fuling 816 Underground Project
or White Crane Ridge Underwater Museum
Optional:
Three Gorges Tribe
Three Gorges Dam Ship-lift Tour
White Emperor City