The 4 Day 3 Night Yangtze River cruises travel downstream the Yangtze River from Chongqing through the Three Gorges to Yichang. The cruises take in both the rich cultural heritage of the area, the natural beauty and the modern marvel of the Three Gorges Dam.
4 Day 3 Night Yangtze River Cruise Itinerary (Chongqing to Yichang)

DAY 1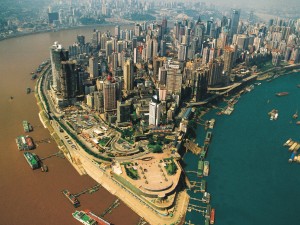 Embarkation in Chongqing
Settle in and get comfortable. We board in the evening to allow our guests time to recover from their travels and shift gears into a more relaxed mode. Tomorrow, we'll start our adventures.
Meals: n/a;
Overnight: Cruise Ship
DAY 2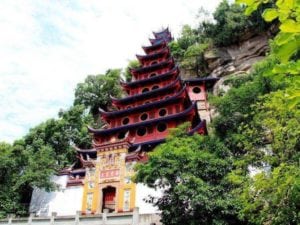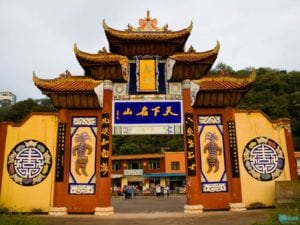 Cultural Heritage: Shibaozhai Pagoda or Fengdu
Today's adventure includes a shore excursion to the Shibaozhai Pagoda or Fengdu, according to different cruise line arrangements. Only one is included, and you could visit the other one as the optional excursion at extra cost. The day finishes with a sumptuous Captain's Welcome Dinner.
Shibaozhai Pagoda: This 400-year-old temple was saved from the rising waters and become an island where once it was a hilltop. The temple is built partway into the cliff and no nails or bolts were used in its construction. 
Fengdu: This area is sacred to three different religions: Confucianism, Taoism, and Buddhism. Revered as a place where the dead transition into another realm, it is surprisingly not dark or a cemetery like. Rather, the "Ghost City" is vibrant and colorful, although the local names are a bit scary. Here you will find "Nothing to Be Done Bridge," "Ghost Torture Pass," and "River of Blood." Despite the names, Fengdu Ghost City is tranquil and spiritually uplifting.
Additional optional shore excursion is available in the evening (river conditions permitting) to "Romance of the Three Kingdoms" live show.
Meals: Breakfast, Lunch, Dinner
Overnight: Cruise Ship
DAY 3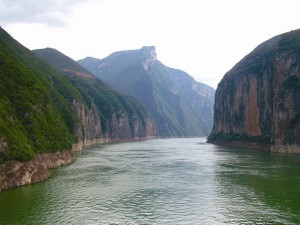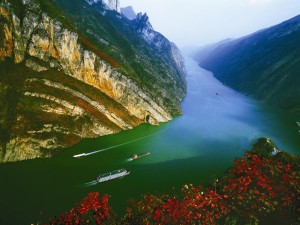 Enter "Three Gorges" / "Small Gorges"
Today, your cruise ship will sail through the Qutang Gorge and Wu Gorge. Qutang Gorge, known for its magnificence, is only 8 kilometers long. Wu Gorge is 45 kilometers long, Noted for its deep and serene scenes, the Wu Gorge is full of zigzags, weird peaks, rising mists, and beautiful sights.
Today's adventures include a side excursion on smaller boats to the Lesser Three Gorges or Shennong Stream or Goddess Stream. The Yangtze has carved out scenery here with towering green cliffsides and misty mountains. For centuries, the scenery before you has inspired Chinese paintings and poetry. Look for the coffins of the Ba people hanging suspended on the cliff faces and marvel at unparalleled natural beauty. Wildlife, including monkeys and the famous giant sturgeon, are commonly seen. Tonight's dinner features local cuisine and cultural entertainment.
Additional optional shore excursion is available in the morning (river conditions permitting) to White Emperor City.
Meals: Breakfast, Lunch, Dinner
Overnight: Cruise Ship
DAY 4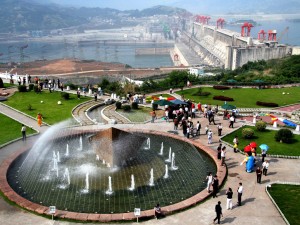 Three Gorges Dam / Arrive in Yichang
As we disembark at Maoping Port in Xiling Gorge, we'll be transferred to the Three Gorges Dam by coach. Here we'll see one of modern China's great achievements. The mile-wide dam is a stunning monument and an excursion allows you to see the project up close. We will arrive at the Yichang Sanxia Tourist Center (downtown area) around 12:30 pm after the Three Gorges Dam tour.
Additional optional shore excursion is available in the morning (river conditions permitting) to Three Gorge Dam ship-lift, and your arrival in Yichang would be around 1:30 pm.
Meals: Breakfast
Overnight: n/a
3 Night Yangtze River Cruises Sailing Schedules 2020
The table below is the weekly schedule for 3 nights 4 day Yangtze River cruise sailing from Chongqing to Yichang. Passengers check in the following ships on the evening of the check-in day, then have 3 nights 4 days cruise trip on the Yangtze with daily shore excursions. The disembark time is normally around 12 noon. There are more than 20 ships in total, Yangtze.com is proud to offer the best rates for booking these cruises. Please click on the cruise name to view more details, or make a booking online.

Day
Cruise Ship Names
First Sailing
Last Sailing
Monday
Victoria Jenna
March 16, 2020
May 11, 2020
Victoria Sabrina
May 18, 2020
November 23, 2020
Century Sky
March 16, 2020
November 30, 2020
Yangtze Gold 1
March 30, 2020
December 07, 2020
Tuesday
Victoria Anna
March 17, 2020
November 24, 2020
Century Paragon
March 10, 2020
November 27, 2020
Yangtze Gold 2
March 24, 2020
December 15 2020
President No.6
March 24, 2020
November 17, 2020
Wednesday
Victoria Jenna
May 20 2020
November 25, 2020
Victoria Katarina
March 18, 2020
May 13, 2020
Yangtze Gold 6
March 04, 2020
December 02, 2020
President No.7
March 18, 2020
November 18, 2020
Thursday
Victoria Selina
March 05, 2020
December 24, 2020
Yangtze Gold 3
March 12, 2020
December 10, 2020
Yangtze No.2
March 05, 2020
November 19, 2020
China Goddess No.1
March 05, 2020
November 26, 2020
Yangzi Explorer
March 12, 2020
November 12, 2020
Friday
Victoria Katarina
May 22, 2020
November 27, 2020
Century Glory
March 13, 2020
November 27, 2020
Victoria Grace
March 13, 2020
May 15, 2020
Yangtze Gold 7
March 06, 2020
December 04, 2020
President No.8
March 13, 2020
November 20, 2020
Saturday
Victoria Sophia
March 14, 2020
November 21, 2020
Century Legend
March 14, 2020
November 07, 2020
Yangtze Gold 5
March 14, 2020
November 28, 2020
Yangtze No.1
March 07, 2020
November 21, 2020
Sunday
Victoria Lianna
March 15, 2020
November 22, 2020
Century Sun
March 08, 2020
November 22, 2020
Yangtze Gold 8
March 08, 2020
December 06, 2020
China Goddess No.2
March 01, 2020
November 29, 2020
Recommended Yangtze River Cruise Ships