China Goddess 2 is one of the newest 5 star cruises launched in Nov, 2014. With the theme-"Chinese Civilization, Three Gorges & Goddess Culture", the cruise is like a moving Three Gorges culture exhibition center. On the whole ship, the passengers can enjoy not only the spectacular Three Gorges scenery, but also the culture and stories of the China Goddess.
China Goddess 2

Ship Facts:
Cruise Name: China Goddess 2
Rating:
Owned by: China Goddess Cruises
Maiden Voyage: November, 2014
Speed: 26km/h
Air-Conditioning: Central Controlled
Tonnage: 9600 T
Rebuilt: N/A
Length: 119.8m
Beam: 18.8m
Draft: 2.7m
Crew: 120
Capacity: 400
Deck: 7
China Goddess 2

innovative design includes:
Chinese Cultural Atmosphere
Sun Deck with bar
Multi-functional lounge
Spacious main dining room
Spa and massage facilities
Fitness center
Souvenir Shops
Non-smoking interior
English-speaking staff & guides
Laundry service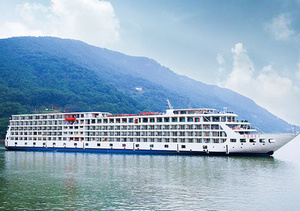 Why China Goddess 2?
2016 Downstream: Chongqing to Yichang, departing every Sunday
2016 Upstream: Yichang to Chongqing, departing every Wednesday

China Goddess 2 Cruise Shore Excursions
3 Nights Downstream
Chongqing to Yichang
Included:
Fengdu Paradise Mountain
Lesser Three Gorges
Three Gorges Dam
Optional:
Evening show "War of the Three Kingdoms"-CNY 290 per person
White Emperor City-CNY 290 per person
4 Nights Upstream
Yichang to Chongqing
Included:
Three Gorges Dam
Lesser Three Gorges
Shibaozhai
Optional:
Three Gorges Tribe-CNY 290 per person
White Emperor City-CNY 290 per person
Fengdu Ghost City-CNY 290 per person