Our Story
CITS Yichang was one of the first companies to provide an online booking service for Yangtze River cruises.
Yangtze.com was founded by Michael Wu from Yichang, an important river port on the Yangtze River. Not only is Michael familiar with the area but he has recognized customers need reliable, timely information. Our domain Yangtze.com was registered on 1st Jan, 1996, which is 20 months before Google.com was registered.
Secure Website
You may notice the green lock pad on your browser, our website address starts with https, this is because we use the world's leading security certificate authority – Thawte SSL Encryption to safeguard your visitor experience on our website. To verify this is a secure website, click the image below.
Why Book With Us
We are located at the heart of the cruise lines operation and work directly with key operators. By booking with us you are by-passing any middle-man.
We have physically inspected EVERY major Yangtze Cruise Ship personally. We can give you unbiased views and timely on-site information.
We work with all Yangtze River cruises from top-end Viking River cruises to local cruise lines. And actually our parent company is the operator of President Cruises – a fleet of four moderate ships.
We service clients from all-over the world. Despite time and need differences, we are always on hand to respond to your telephone calls and emails in a timely manner.
We employ international experienced, well traveled native English-speaking staff. We do this so we can enhance communication with our international clients.
We provide multiple payment options and can accept all major credit-cards. We endorse a strict privacy policy ensuring that your delicate data is not shared or used for any other purpose than it was intended.
We provide full turnkey service from the minute you contact us right up to the time that you board the plane back home.
We encourage feedback both negative and positive from our clients. We are passionate about customer service and strive for constant improvement.
Our Customers
Our website has served more than 8,000 customers from around the world including Australia, Europe, North America and Asia. Our customers are from a variety of fields including educational, governmental and Fortune 500 organizations. Despite the time and need differences of our customers, we are always on hand to respond to requests with our well travelled, English-speaking staff.
Photos of our guests: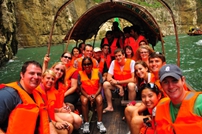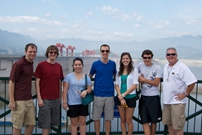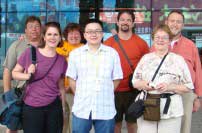 Universities:
Baylor University in the United States uses our travel agent services for their "i5 program". Other universities include Rochester Institue of Technology, University of Kentucky, Blue Mountains Hotel School Australia, Washington University in St. Louis, Appalachian State University, Rice University, NYU Stern School of Business, University of Denver Sturm College of Law, University of Toronto, University of Kansas, Princeton University
Embassies:
Embassy officers from the United States, United Kingdom, Sweden and Australia have trusted us for their Yangtze River cruise bookings.
Executives:
Executives from Fortune 500 companies like Ford Motors in Nanjing, Airbus in Tianjin, Alcoa, TycoElectronics, BP, and Microsoft have booked our cruises and tours.
Endorsements
Media and publications:
The Charlotte Observer (2004)
Frommer's 500 Places to See, by Holly Hughes, Larry West, (2008), p. 63
China, by Hans-Wilm Schütte, Odin Hug (2007), p. 302