The luxury cruise ships President 7 & President 8 started their maiden voyage in April, 2013. As sister ships of the same class and design, they are 146.8 meter in length and 20.2 meter in width, making them listed in the largest Yangtze River cruise ships. They each contains 215 luxury Standard Cabins, 13 luxury Executive Cabins, and 2 Presidential Suites, totaling 230 rooms for 460 guests.
President No.8

Ship Facts:
Cruise Name: President No.8
Rating: plus
Owned by: President Cruises
Maiden Voyage: April, 2013
Speed: 26km/h
Air-Conditioning: Central Controlled
Tonnage: 17000 T
Built: 2013
Length: 141.8m
Beam: 20.2m
Draft: 2.6m
Crew: 200
Capacity: 460
Deck: 7
President No.8

innovative design includes:
Sun Deck with lounge chairs
Indoor swimming pool
Multi-functional lounge
Spacious 2-Floor dining room
Spa and massage facilities
Fitness center
7 floor atrium lobby
Souvenir Shops
Cruise cinema and game room
Kid's Garden
Well stocked library
Non-smoking interior
English-speaking staff & guides
Laundry service
2 Lifts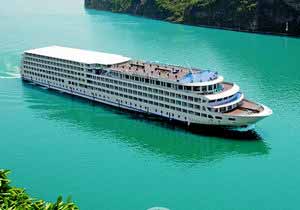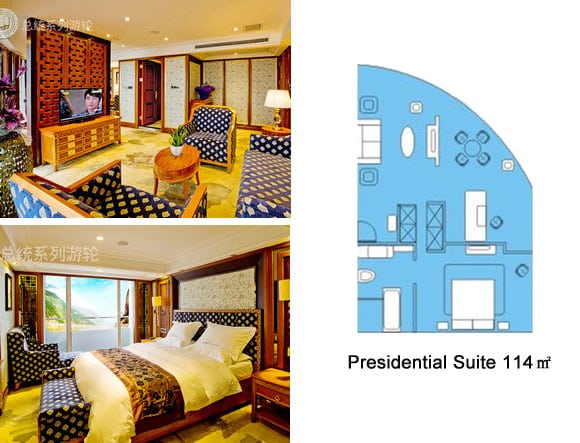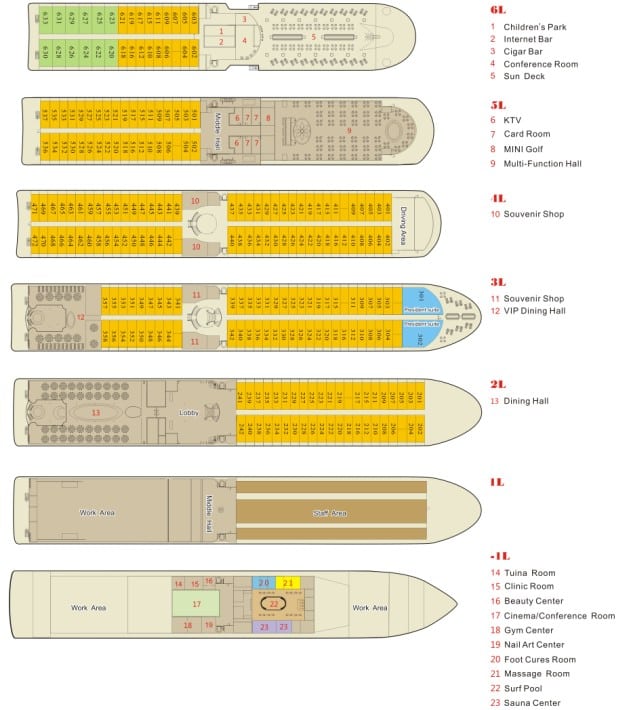 Cruise Service Charge
In lieu of tipping, the cruise line charges CNY 150 (approximately US $25.00) upon check-in. This service charge does not include a gratuity to our river guide or cruise director, which may be given at passengers' discretion based on their satisfaction with services received.
President Cruises Shore Excursions
3 Nights Downstream
Chongqing to Yichang
Included:
Shibaozhai
Shennong Stream
Three Gorges Dam
Optional:
White Emperor City-CNY 280 per person
Fengdu Ghost City-CNY 280 per person
4 Nights Upstream
Yichang to Chongqing
Included:
Three Gorges Dam
Shennong Stream
Shibaozhai
Optional:
Three Gorges Tribe-CNY 290 per person
White Emperor City-CNY 280 per person
Fengdu Ghost City-CNY 280 per person