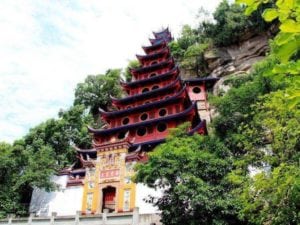 Shibaozhai is a historic site on the banks of the Yangtze River, near Chongqing. The name translates as Stone Treasure Fortress. At the site is a rocky hill with steep slopes, and up the side of the hill is a beautiful red pavilion, which actually leans against the side, creating a walkway to a stunning temple which sits on the peak.
The temple was built first, and originally, visitors were pulled to the top of the hill with a system of hoists and chains. In 1819, the pavilion was built to help people walk to the top. As you climb, you can stop on each floor to admire the artefacts on display. Each floor is dedicated to a famous Chinese general, a local scholar or an important poet. In 1956, three more storeys were added. Today, this 12 storey fortress contains many beautiful artefacts and works of art from its period.
If you take your time to look and learn, it will take more than an hour to reach the temple at the top. It is well worth the walk, both for the fascinating history and art on the way up, and for the stunning view from the top across the Yangtze Valley at your feet below.
Today, Shibaozhai sits on the edge of a lake, on a lovely island. That wasn't always the case, as this lake and island were actually formed by the opening of the Three Gorges Dam in 2008. At the base of the fortress, merchants set up stalls to sell goods and excellent snacks.