One of the highlights of any Yangtze River cruise is a stop at the breath-taking Three Gorges Tribe Scenic Spot. Nestled in the stunning Xiling Gorge, right near the city of Yichang, this area looks just like a painting.
Combining the natural beauty of the surrounding mountains, rivers and valleys, with the colorful culture of the area, this spot draws visitors from around the world. Officially designated as a protected area of art and culture, there are many places to visit here at the Three Gorges Tribe Scenic Spot.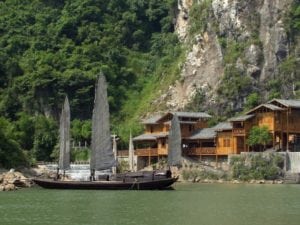 There is the Village on the Water, where you can watch ancient fishing rituals that have been practiced here for thousands of years.
At the Mountain-Top Tribe, you can visit houses that seem to hang down at the top of steep mountain steppes.
There is also the Toad Spring, declared since the time of the Tang Dynasty, to provide the very best water for making tea. Finally, make sure to take in one of the Boatman Performances. Local musicians and artists in full costume perform from boats in the river, and their musical tales of the ancient Ba people echo down against the cliffs and mountains that surround you.

Chick here for the 4 Nights Yangtze River cruises departing from Yichang.
* The Three Gorges Tribe is as an optional excursion during the 4 nights upstream cruise tour.