Ancient Customs at the Yichang Chexi Folk Custom Village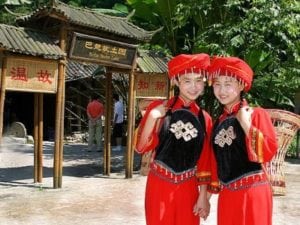 Right near the city of Yichang, another popular stop for Yangtze River cruises is the lovely Chexi Folk Custom Village. It is a recreation of a traditional village of the Tujia people, the largest minority ethnic population in this part of China.
The Chexi Village allows visitors to see the customs of this fascinating people. There are musical and folk performances, as well as a number of activities where you can get involved. Not only is the Chexi Folk Custom Village a compelling glimpse at a rich culture and people, the setting of the village is breathtakingly beautiful.
The village was built to recreate the natural sceneries and charms of the village. With a pretty mountain backdrop, and the natural flows of the Yangtze and nearby streams, there are waterwheels and agricultural areas, and you get the sense of having stepped out of time, into the life of a pretty ancient village.