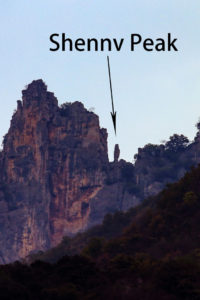 The name came from a legend. It is said that the Heavenly Mother's youngest daughter, Yaoji, once came here. She helped to ease floods and guide the sailing in the gorge. Later on, she often dated the King of Chu in the Wu Gorge. The clouds and rains in the Wu Gorge area were said to be created by them. And the word group "clouds and rain" in Chinese hence had a new meaning, which indicates the fair between two sexes.
One of the 12 renown peaks of the Wushan Mountains, the Goddess Peak, about 10 meters high and around 6 meters in girth, stands on the top of a 1,020-meter mountain at the northern side of the Yangtze River and looks like a beautiful girl gazing lovely at the other side of the river.
At dawn or dusk, it is often covered with glowing clouds. The rest of the 12 peaks are Dragon Peak, Sacred Spring Peak, Morning Cloudy Peak, Pines Peak and Fairies Peak at the northern side of the river; Crate-habitat Peak, Green Screen Peak, Phoenix Peak, Altar Peak, Cloud-originating Peak and Upward Peak at the southern side.